This Girl is on Fire!!! ...in Savannah!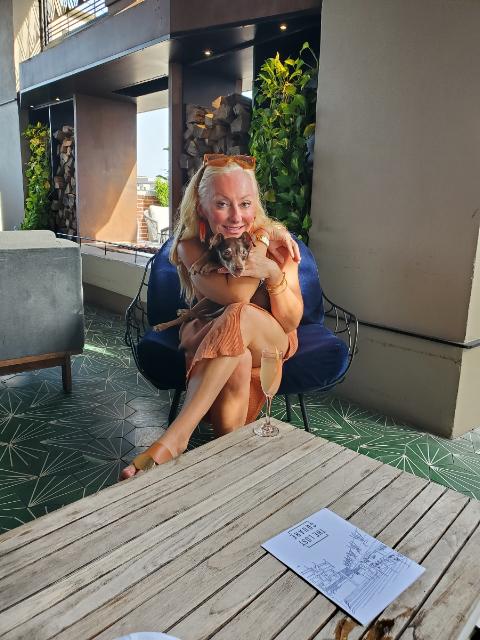 Don't you just love when a monochromatic outfit comes together effortlessly?  Oh, and you can also match your cute dog and fizzy Sunday Funday Cocktail to it?  Why Yes!  I couldn't agree more!
Let me introduce you to a great Fall transition outfit...
First, I am still DYING over these gorgeous handmade earrings from a brand that I carry called Mishky.  They scream FIRE to me!  I LOVE them!  They are totes my favorite pair of earrings I rock these days.  Find them on my site by searching 'Incendio Amazonico Earrings'.  Oh, and they are super lightweight so really easy to wear.  You can thrown them on with a plain white Tee too and have them be the stars of the show!  Oh, and most importantly, the person who made them is a single mother trying to make ends meet for her family.  I love Mishky's mission to make beautiful products while creating jobs.
P.S. You can also get a great facial in 10 minutes while walking around Savannah...hence my half-face look here!  Ha!
Next, let's move onto my favorite Fall outfit!  We all love a good matchy-matchy set right?  Well, this one is amazing!  The color is lush, and the best part, it retains it's shape, no matter how many times you sit down!  Find it on my site by searching 'Lucero Set'.  Also handmade by another brand I carry called Capittana, this brand is also creating jobs for single mothers trying to support their families.  I love that I am wearing something that made a difference in someone's life on a deeper level versus just being massed produced. 
It's seriously such a fun outfit to wear!  The side slit on the skirt offers that bit of sexiness that we love, while the knit of the fabric hugs our curves for that comfy fit we're always on the hunt for.  And the earrings just top it all off!  In the same color family but with that added bit of fire to strike up a conversation.
Next, add our matching 'Sweet About Me' Sunglasses by the brand OTRA I carry, grab a cute red/brown four-legged friend (my sweet Maverick for me!) and a Peach Bellini and meet me at the best rooftop bar in Savannah, The Lost Square, in your best monochromatic outfit!
Oh, and if you stick around for drink #2, definitely order the cocktail that comes with an adult-sized fruit roll-up!!!! YUMMMMMMMM!
Cheers Friends!
~Carrie Simon Nash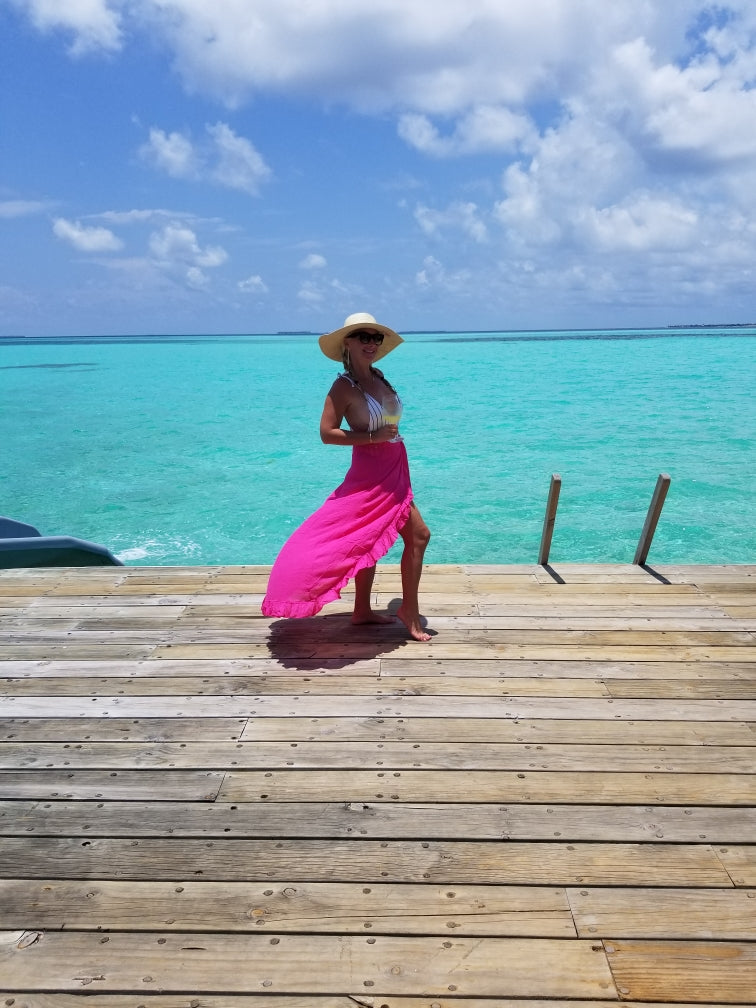 HI THERE!
I'm Carrie
From the sea to the street, I've always loved fashion. While it's true I'd rather be in a swimsuit on a beach, with some bubbly of course, I share an equal love for cute brunch & date night outfits, adorable beach bags, hats, sunnies and fun items for my home! I'm always on the hunt for new fashion, swim, accessories and other things that make me smile, including amazing island vacations, and this Blog is my happy place to share those with you!
SHOP OCCASION
sign up!
want fresh picks, top trends and unique finds?
sign up for our email list!